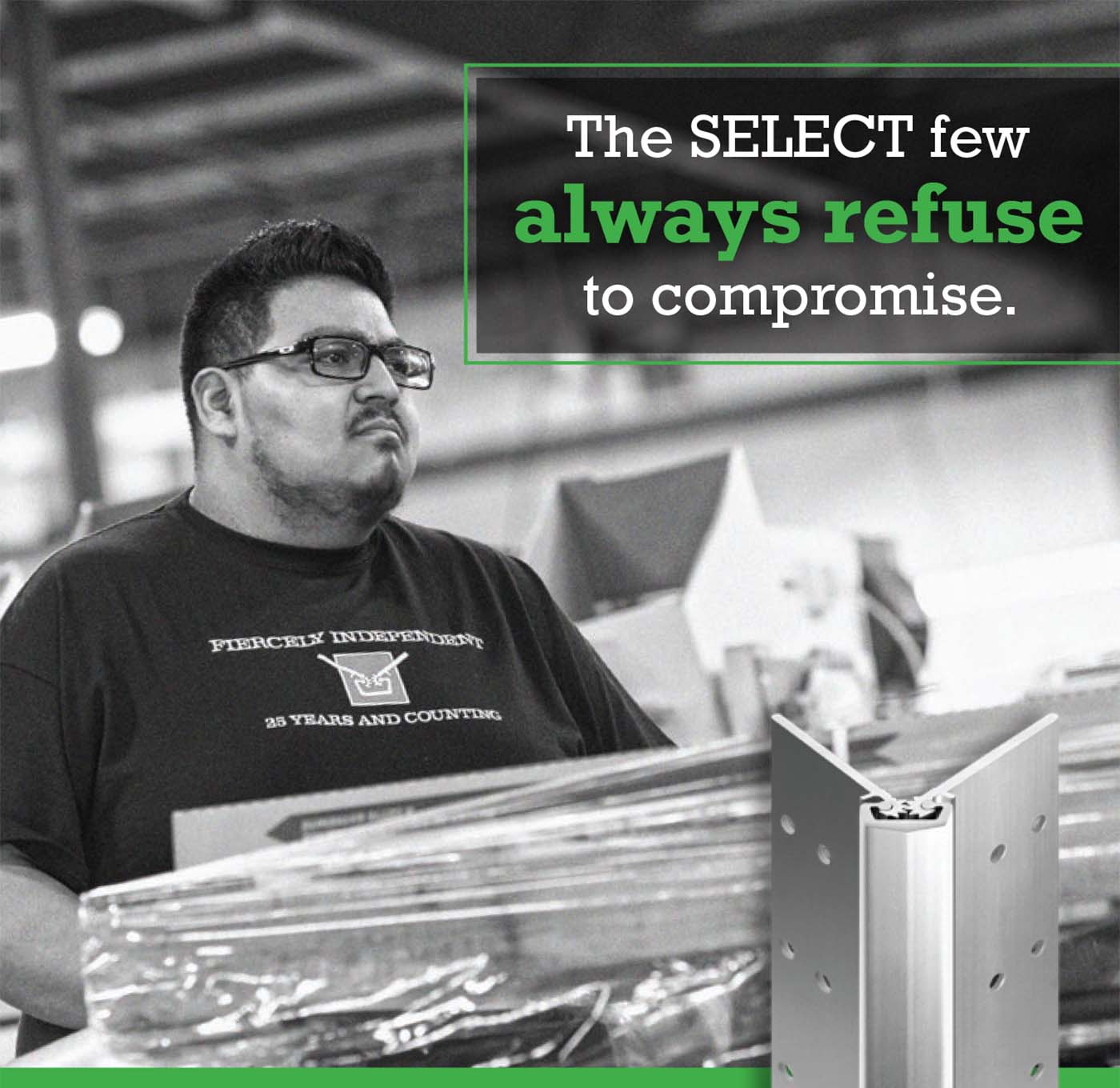 The SELECT few in this industry refuse to see continuous hinges as commodities. Hinges are all these people make. Hinges are their driving force for fresh ideas and innovation. These SELECT men and women will not be controlled by the world's hardware giants. Their independence means they only answer to you. Compromise on our beliefs? Don't bet on it.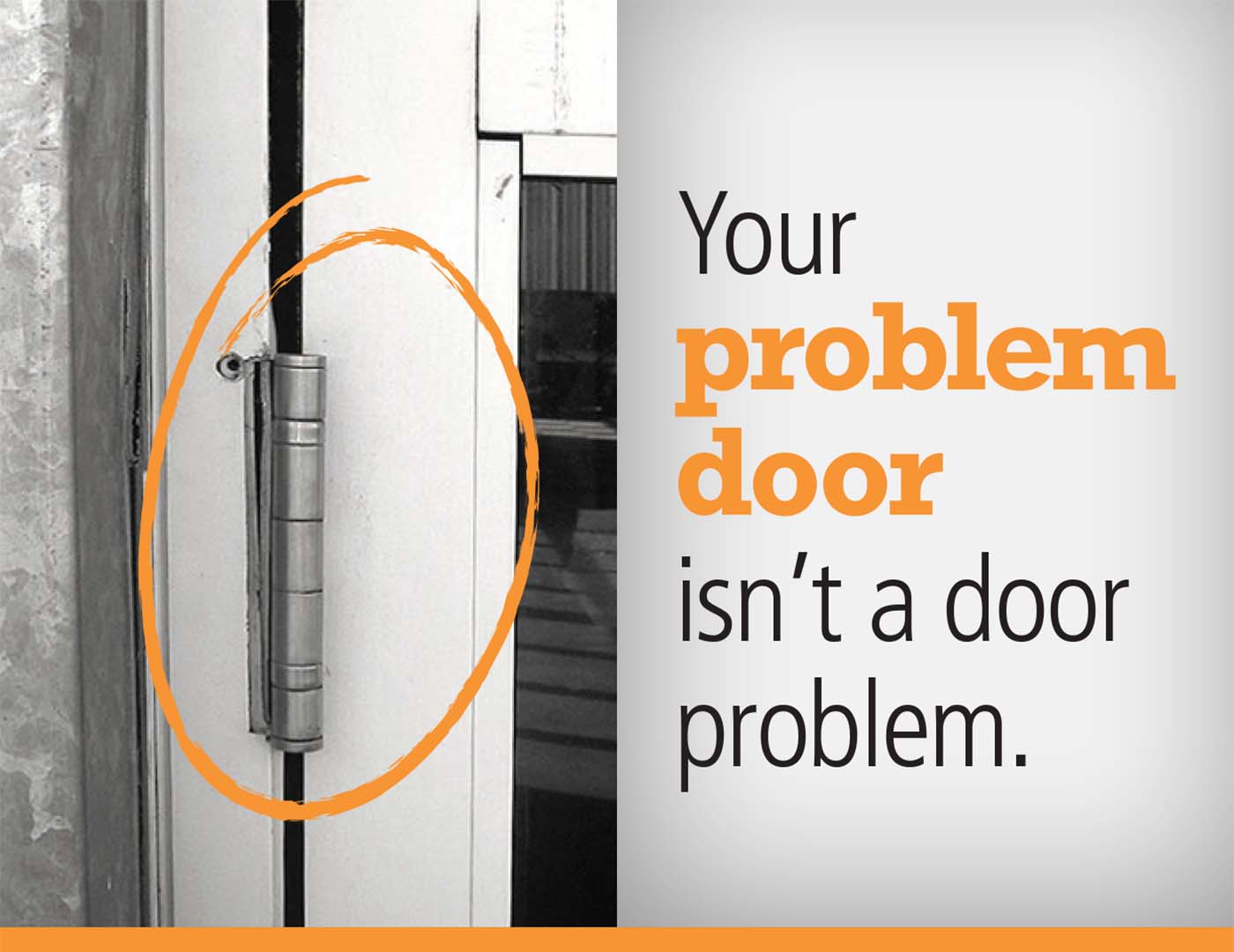 It's not the door's fault. Butt and pivotal hinges wear out quickly on hightraffic entrances, making your door hard to close and compromising security.
Fix your problem door for good.
A SELECT geared continuous hinge distributes stress along the door length, giving it durability proven by more than 25 million open/close cycles in independent testing. That's why it comes with the industry's only Continuous Warranty™ — with no expiration date.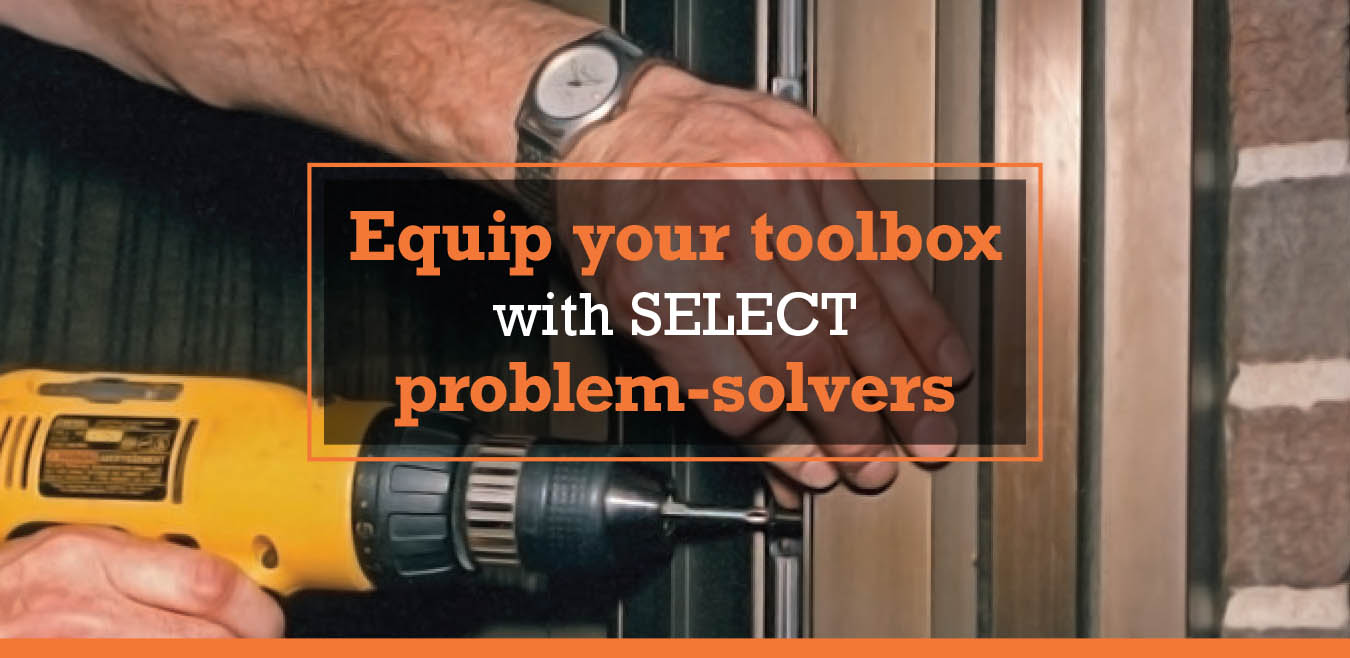 Speed up installations with these new solutions.
Whether you're renovating high-traffic entryways or putting in new frames and doors, you want your job to go faster and easier. Now there are three ways to simplify installing SELECT geared continuous hinges:

HB375 DRILL BIT
No center punch needed. SELECT's .375-inch drill bit is designed specifically to speed up installation of our geared continuous hinges.
PIVOT HINGE HOLE COVERS
Instant improvement. Mask the unsightly holes left by previous pivot hinge preps with SELECT's self-adhesive covers. Block out insects, dirt and water, too.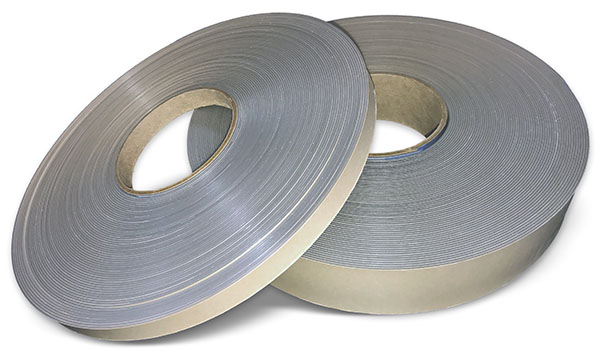 SHIM STOCK
Make invisible adjustments. Square up doors and frames without ruining their appearance. SELECT's shim stock comes in clear anodized aluminum strips or 100-foot rolls of translucent UHMW.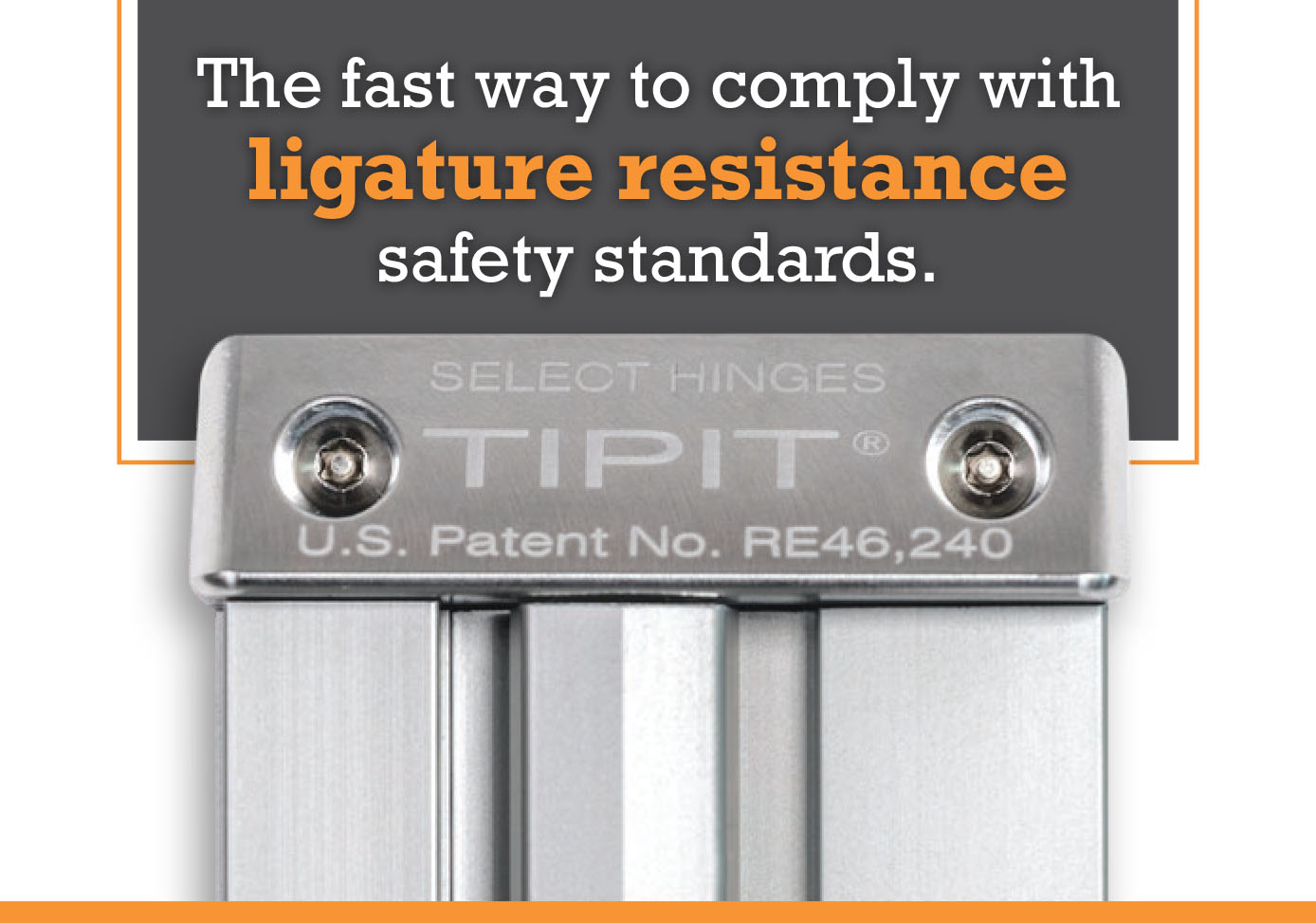 Reduce ligature and safety risks while reusing your existing door and frame with SELECT's new metal TIPIT® LM combined with our SL57 full surface hinge.
The SELECT SL57 aluminum full surface geared continuous hinge topped with our new, patented metal TIPIT is designed to meet patient safety standards. This is your fast, money-saving solution for deterring patient injuries and eliminating maintenance headaches for decades. Don't wait for a Joint Commission inspection to go into fast-compliance mode. Call us today!
SEE IT AT:
www.omh.ny.gov/omhweb/patient_safety_standards/guide.pdf
(Division 08) and in the 2018 Facility Guidelines Institute
(FGI) Behavioral Health Design Guide.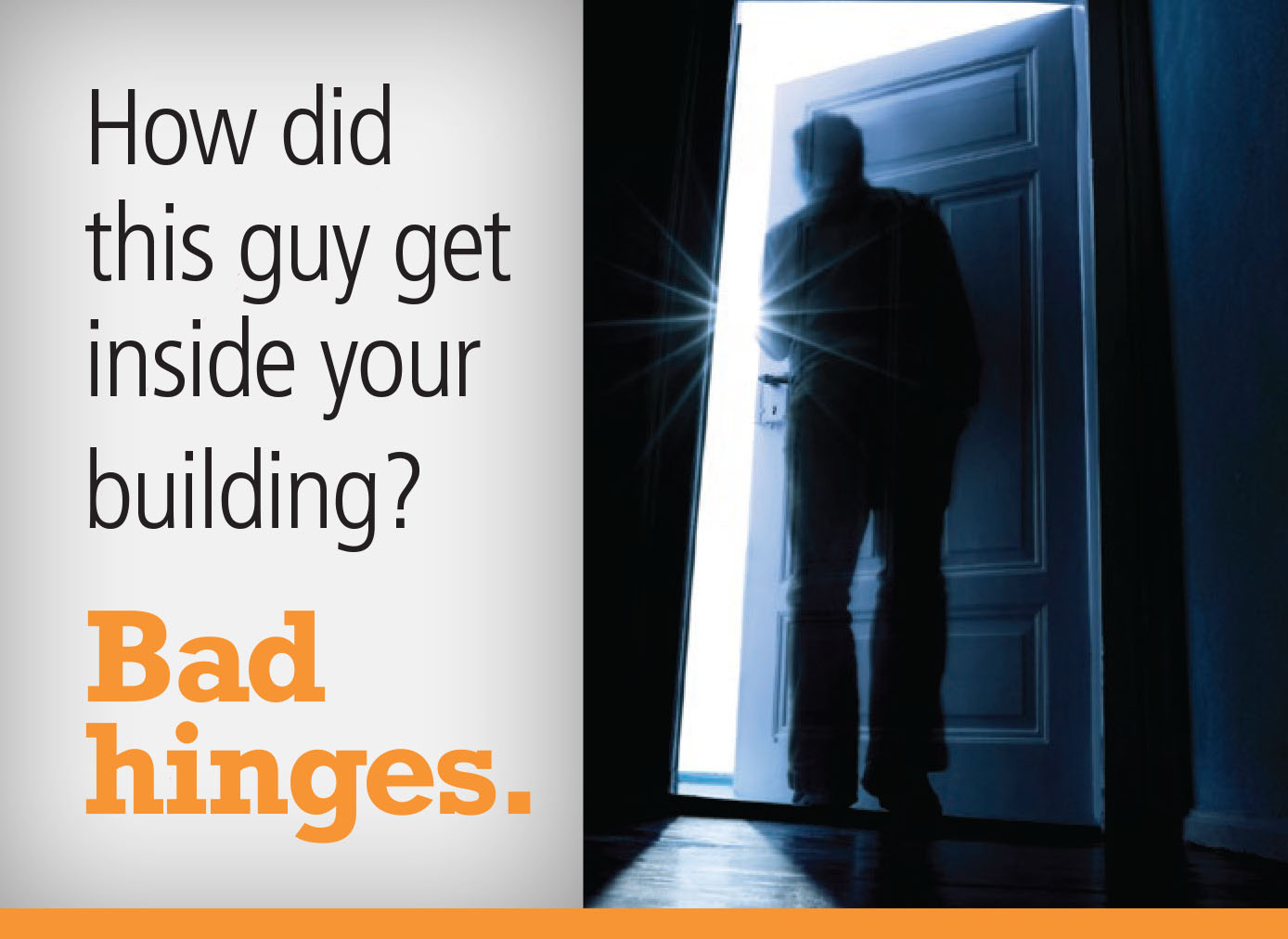 Worn hinges cause door problems. And despite all your time spent checking them, it only takes one door to jeopardize security. Ensure building safety with SELECT geared continuous hinges, independently tested to endure more than 25,000,000 cycles (60+ years of use).
Tighten security and fix doors forever.
U.S. Department of State 60-Minute Forced Entry/Ballistic Resistance certification confirms your door will stay secure. Which is why we can back SELECT hinges with the industry's only Continuous Warranty™.