Which hinge is best for your door?
Butt Hinges | Concealed Hinges | Continuous Hinges | Pivot Hinges | Strap Hinges | Other Considerations When Choosing a Hinge
Do you need to replace a worn-out door hinge? Or are you writing hinge specs for the entryways in a new building or an addition? The easiest decision may be to go with the hinge design you are most familiar with, but that hinge may not be the one best suited for your entryway. It may cost you more money in maintenance, repairs and replacement. Here are some tips on what to consider before making your final hinge selection.
What are the most common door hinge types?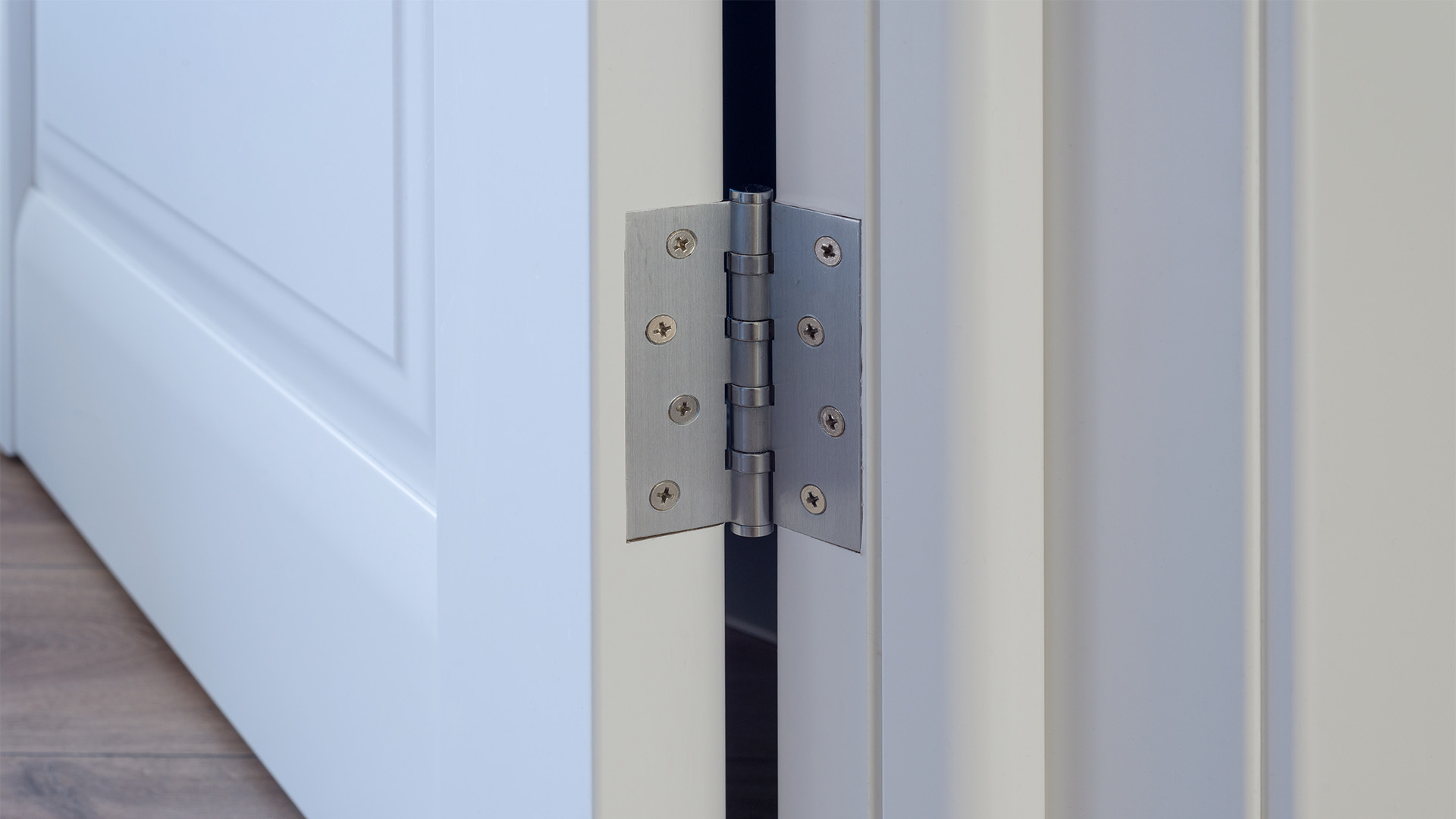 BUTT HINGES
Design Options: Full mortise, full surface, half mortise and half surface hinges are available for low frequency/standard weight doors, medium frequency/medium weight doors and high frequency and/or heavy weight wood or metal doors. Choose from two knuckle, three knuckle, five knuckle, swing clear, wide throw, spring, electrical security, non-removable pin (NRP) and heavy-duty anchor hinge designs.
Butt hinges feature a variety of bearings that work with different door heights, widths, thicknesses, weights and door operation frequencies. You can choose from oil-impregnated, self-lubricating, non-ferrous bearings, ball bearings, plain bearings and concealed bearings.
Butt hinges also come in steel, bronze, brass or stainless steel in dozens of standard and custom architectural finishes.
Pros:
Low initial cost.
Many design configurations and finishes (see above).
Choice of hinge tips: standard button or flush pin design or tapered hospital tips, decorative ball or steeple tips.
Cons:
Initial cost quickly increases when you specify stainless steel or request non-standard configurations, finishes, bearings and tips.
High, long-term cost of ownership. High-use doors especially require frequent butt hinge maintenance, repairs and replacement. Expect to get only 5 to 7 years from your butt hinge.
Typically, a one-year limited warranty.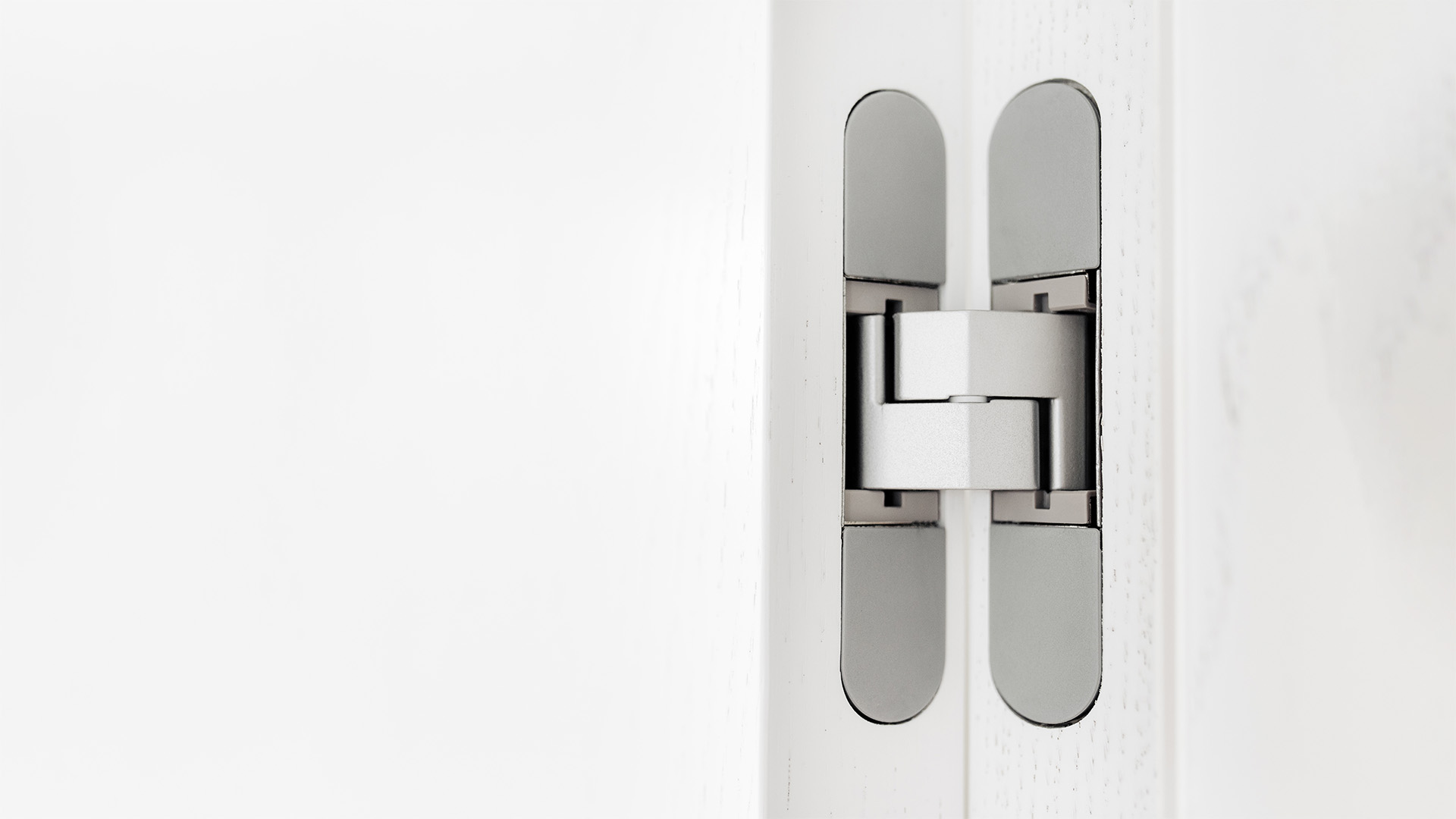 CONCEALED HINGES
Design Options: These high-end hinges are completely concealed. Contributes to a clean design on interior and heavy-duty wood, steel, or aluminum door panels and frames. Designs are available for retail, hospitality, commercial, industrial and institutional entryways.
Pros:
Aesthetically pleasing; doors can visually disappear into a wall.
Ease of installation; adjusts horizontally, vertically and in/out for a smooth operation.
Secure; you cannot tamper with the hinge in the closed position.
Fire-rated hinges are available.
Hinge opens up to 180 degrees.
Cons:
Upfront costs are very high; the costs to prep the door and frame compound the expenses.
Not well-suited for high-traffic or high-abuse entryways.
One of the leading manufacturers is in Germany with North American distribution. May cause product delivery delays.
One U.S. concealed hinge manufacturer only offers a one-year warranty on its products.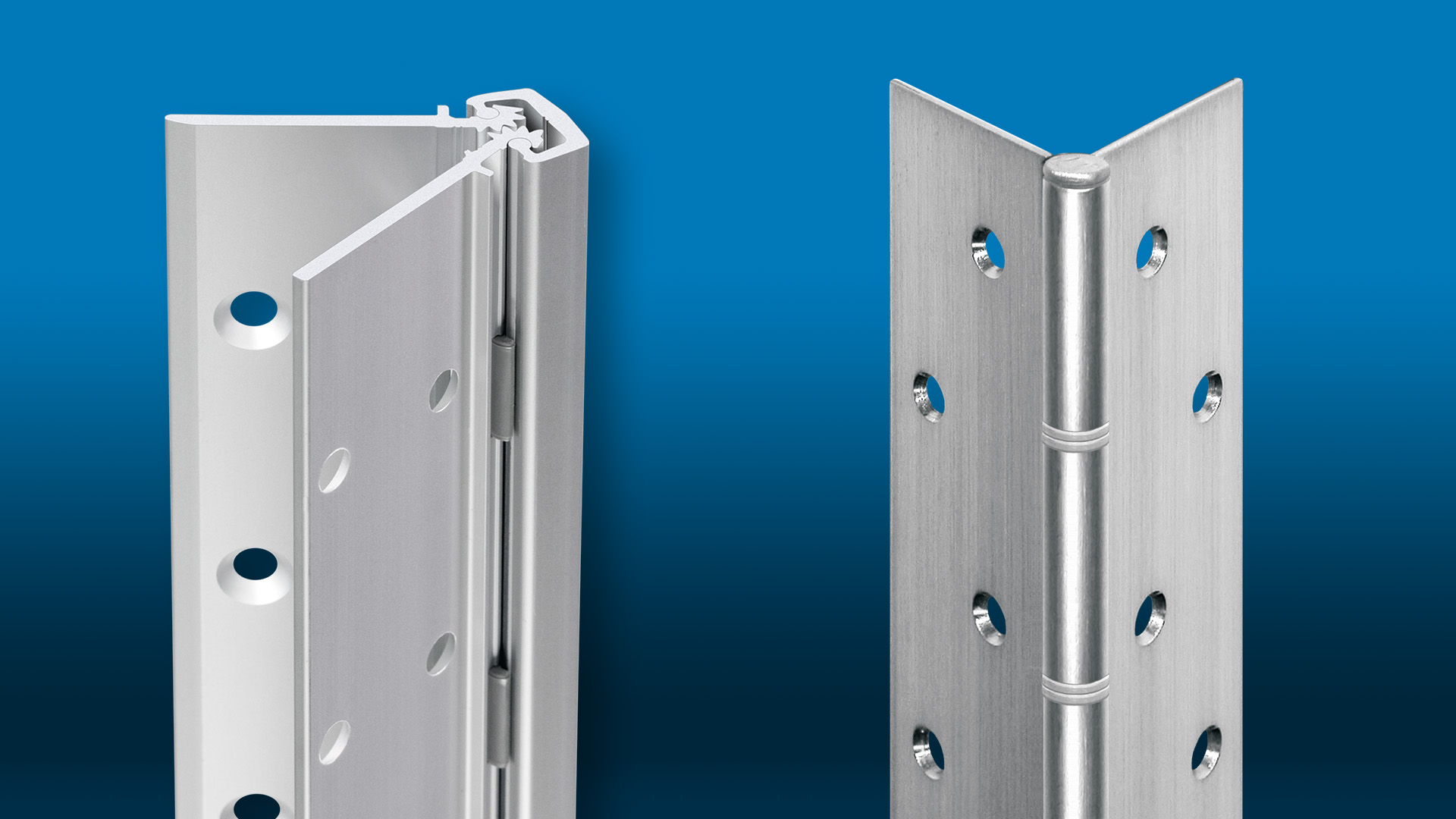 CONTINUOUS HINGES
Design Options: These architectural-grade hinges attach to the full height of the door. This distributes the weight of the door along the height of the frame and reduces stress on the hinge. Expect these hinges to last many years longer than standard butt or mortise hinges. They are excellent choices for high-traffic, high-abuse entryways at retail, school, hospital and municipal sites.
There are two types of continuous hinges. Geared continuous hinges are made with extruded, corrosion-resistant, anodized aluminum. They can be used in both interior and exterior applications, the gear teeth mesh as the door opens and closes for smooth operation. A cover protects the geared teeth and provides a clean finished look. They can work well on standard and doors weighing up to hundreds of pounds.
The pin and barrel continuous hinges are made with steel or corrosion-resistant stainless steel. A long pin and barrel run the length of the hinge. Like the geared continuous hinge, it distributes the weight along the frame and reduces stress on the hinge so it performs longer.
Pros:
Mid-price initial cost; longest-term savings. Calculate continuous hinge savings here.
Fits nearly every door size, including oversize doors that are taller or wider than standard measurements.
Very durable. The U.S.-made, SELECT geared continuous hinge has been tested to last more than 25 million open/close cycles or 60 years of high-traffic use. Once installed, it's unlikely that you will ever replace it.
Aesthetically — entryways look good for decades. No rust or corrosion, no sagging, no dragging or warping.
Installers can retrofit doors with continuous hinges in less than an hour.
$0 maintenance costs for up to six decades or more.
SELECT Hinges ligature-resistant tips are available for hospital, school and mental health clinic applications.
Fire-ratings are available for both geared continuous and pin and barrel continuous hinges.
Highest-level ballistic-resistance certification by the U.S. Department of State. SELECT's U.S.-made geared continuous hinge was put through rigorous security testing including high-powered rifle fire and assault with sledgehammers, wedges and other tools. The hinge and the door still functioned after the forced-entry attacks, protecting the people on the other side.
Available in a variety of finishes including clear, black, bronze or custom colors.
Long warranty. Manufacturer warranties range from 10 years to no time limit on SELECT Hinges.
Cons:
Not suitable for extra-heavy doors or all-glass doors.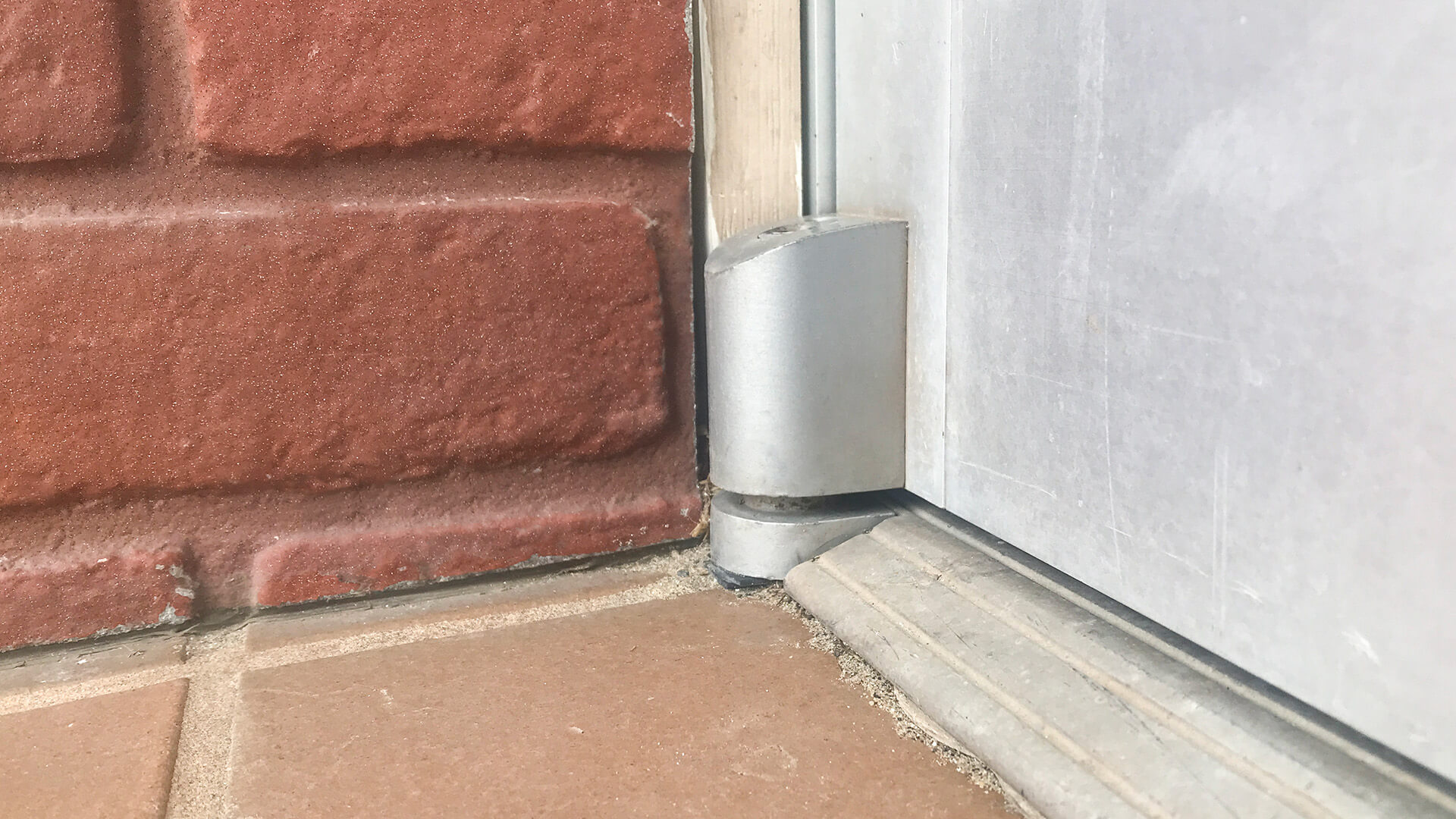 PIVOT HINGES
Design Options: The chief advantage of this hinge design is that the door is supported by bottom, top and intermediate pivot hardware rather than using the entire frame for support. This is sometimes a good choice for very heavy doors.
Pros:
Low-to-mid initial cost.
Well-suited for interior, heavy-weight, high-traffic doors. The door does not sag under its weight.
Aesthetically pleasing.
Cons:
Not advisable for exterior doors. The pivot hardware attached to the bottom of the door is highly susceptible to corrosion from rain, snow, ice and salt; requires frequent replacement.
Corroded hinges are unsightly and present security risks.
High long-term costs for exterior applications due to more frequent maintenance and replacement.
Because the hinge does not run the length of the door, wood doors can warp with time. Adding multi-point locking systems can prevent warping, but they add to the cost.
Improper installation can lead to the door dragging.
Standard pivot hinges open the door up to 90-degrees; too much force to open it wider will overextend the door and require maintenance or hinge replacement.
For wider openings, it is best to install two doors with pivot hinges.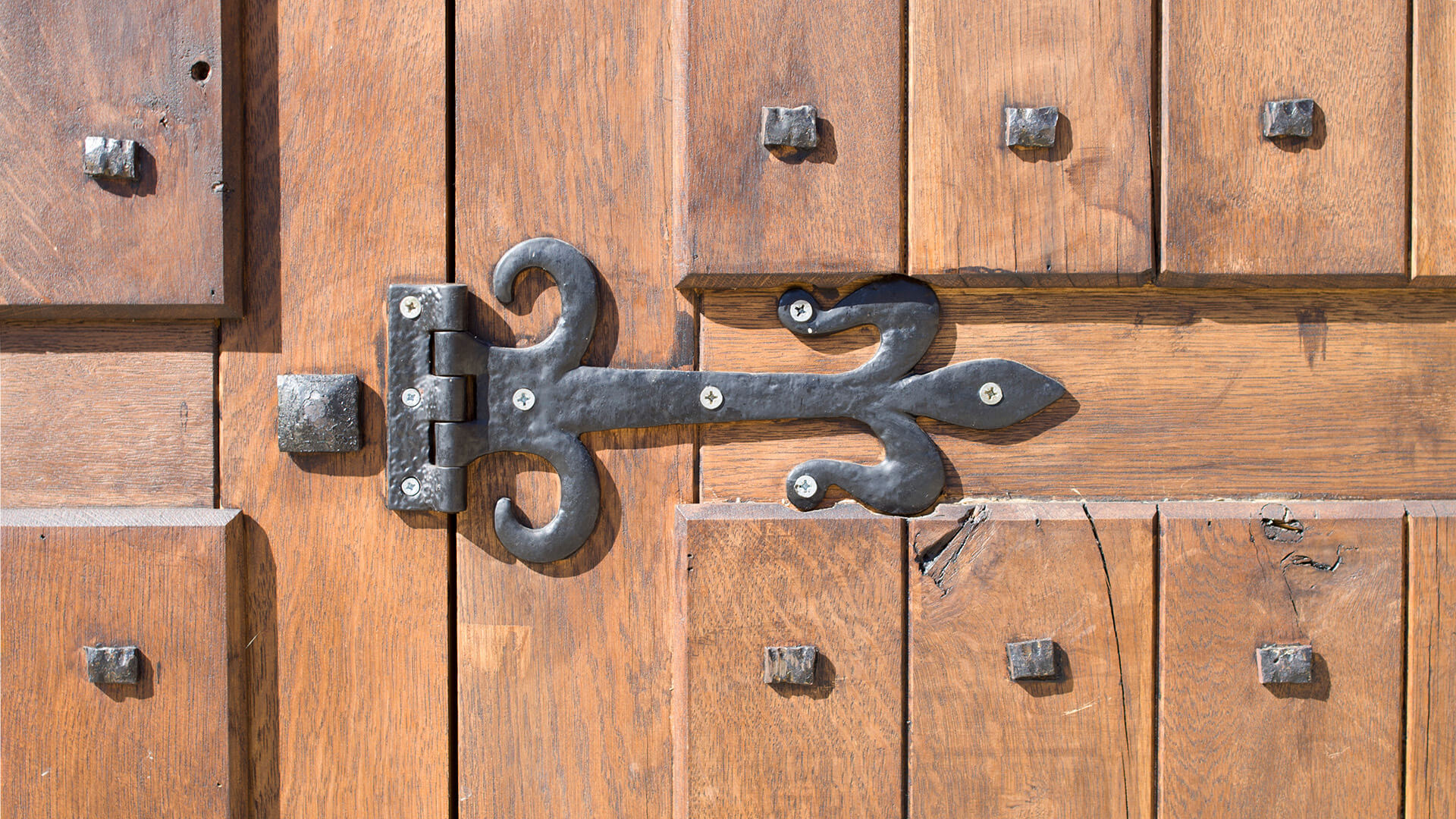 STRAP HINGES
Design Options: Vintage, rustic look. Strap hinges are made with forged iron, stainless steel, steel or brass and with zinc plating, powder coat and galvanized finishes. Apply on interior or exterior doors where you want to minimize the amount of space the hinge uses. These hinges are clearly visible on the doors.
Pros:
Mid-to-high-price investment.
The strap's long leaves provide extra stability for heavy-duty doors.
Dummy strap hinges are purely ornamental.
Available in a range of sizes and simple to intricate designs.
Steel hinges are extremely strong; aluminum hinges are lighter and more corrosion-resistant; zinc plating on materials that corrode protects them from rust and early wear.
Up to a 10-year warranty.
Cons:
If the hinge is too big, the edges may overlap the door edges; too small, it may not fit securely or be stable.
Hinges made with corrosive materials such as iron and steel rust more quickly in outdoor applications and require more frequent replacement.
Rusted hinges are noisy, unsightly and present serious security risks.
Other considerations before finalizing your door hinge selection
The Door | Hinge Materials | Installation | Security | Customer Service
The Door
Door materials are typically aluminum, glass, steel, wood, hybrid FRP and fiberglass. Door sizes are virtually unlimited. When choosing the best hinge for your door application, you will need to consider the door material, height, weight, width and thickness. Thermal, forced-entry or attack-resistant and bullet-resistant doors can be much thicker than the standard 1-¾" commercial door. Make sure your hinge choice can accommodate the door measurements.
Hinge Materials
Depending on the design, they make hinges with the following materials:
Aluminum: This material is corrosion- and rust-resistant, lightweight and recyclable. Aluminum hinges may also qualify for LEED (Leadership in Energy and Environmental Design) points, including recycled content, low-emitting materials (no VOCs) and regional materials. Can be used in fire-rated openings up to 3 hours (you must specify 3-hour at the time of your order).
Brass: Non-corrosive, rust-resistant and decorative. Not as strong as steel or stainless steel. Cannot be used on fire-rated or labeled doors because of its low melting point.
Bronze: Attractive, corrosion-resistant and self-lubricating (won't squeak). The surface will oxidize over time, giving it a unique appearance.
Stainless Steel: A very strong material that is also rust-resistant. Heavier than aluminum, it is typically more expensive as well. It also can be polished to a satin or bright finish. This hinge material is fire-rated.
Steel: This is the strongest hinge material, but it is also corrosive. It is best suited for indoors in low-humidity environments. Can be used in fire-rated or labeled applications.
Wrought Iron: These hinges are strong, hand-forged and provide old world charm for entryways. They can be corrosion-resistant. Because this material is easily welded, it opens up more hinge design options.
Installation
Before making your hinge choice, review the installation instructions on the manufacturer's site. Are there video instructions and downloadable printable instructions? Do instructions come in multiple languages? Can your installers talk live with a customer service representative when they have questions?
Security
In the last few decades, building security has become a much higher priority for entryways at schools, hospitals, retail stores and businesses. A functioning door equals a secure door. Hinges that can corrode, rust or break from heavy use, cause the door not to close properly or it makes forced entries easier. To protect the people and property inside buildings, choose a hinge design that is made to last and that requires minimal maintenance or replacement.
Customer Service
Another critical factor is the level of customer service you will receive from the manufacturer or your distributor. Cost is important but you also want to be able to talk to a live representative not a machine recording, get knowledgeable answers to your ordering and installation questions, find solutions to your product problems and on-time delivery. When the manufacturer's warranty has no time limit, you can expect the highest level of service for your hinge before and after installation.
Talk to SELECT Hinges and choose the right hinge type today.
There are a lot more factors beyond the initial cost when analyzing the best hinge for your entryway. As many building owners will tell you, paying less upfront may end up costing you much more if there is repeated maintenance, repairs and replacement over the next few years.
Take time today to talk to a SELECT Hinges sales representative about whether a geared continuous or pin and barrel continuous hinge can bring your company the most satisfaction, savings and worry-free door operation over the next six or more decades. Making a confident decision starts by locating your representative today.