SELECT Hospital Tips
Fast, ligature-resistant solutions for doorways throughout your facility
Now there is a simple way to make doorways safer in your hospital, correctional facility, schools or other institution. SELECT's TIPIT® hospital tips deter patients, inmates or students from hanging objects from geared continuous hinges and injuring themselves. The ligature-resistant TIPIT® mounts securely to the door frame above the hinge with TORX® screws. In just minutes you will gain peace of mind for decades.
Three ways SELECT TIPITs increase safety and save money with geared continuous hinges.
Replace worn-out hinges with SELECT's geared full surface, half surface or half mortise continuous hinges then mount a patented TIPIT® above them. You will save money by using your existing doors and frames. Plus, with SELECT hinges' durability, you will cut your maintenance and repair costs for years, too.
Specify patented TIPIT® for new construction. Order the ligature-resistant TIPIT® with new SELECT hinges or use with most other brands of geared continuous hinges.
Use TIPIT® preps for doorways with geared concealed (full mortise) continuous hinges (excluding SL71). Make your doorways ligature resistant and aesthetically pleasing by eliminating exposed edges with our improved angle-cut TIPITs. They are easy-to-clean too.
Your SELECT sales rep can help you choose the right TIPIT® for your new construction or retrofit application. 
Create a fast, Joint Commission-compliant solution with a patented TIPIT® LM and SL57 geared continuous hinge.
Whether you are mandated by a Joint Commission inspection to quickly meet ligature-resistant patient safety standards or are taking preventive steps to deter someone from hurting themselves — SELECT HINGES offers a long-term solution. Mount a patented, metal SELECT TIPIT® LM hospital tip to the door frame header above an SL57 aluminum geared full surface continuous hinge. This ligature-resistant combination will prevent patients from hanging objects from the doorway and harming themselves. You will find this combination listed in the New York State Office of Mental Health Patient Safety Standards, Materials and Systems Guidelines and the 2018 Facility Guidelines Institute (FGI) Design Guide for Behavioral Health Facilities.
Choose between ligature-resistant polymer or metal TIPITs for most applications.
Create safer doorways throughout your facility with SELECT geared continuous hinges in new or retrofit applications. Use with SL21 and SL57 full surface hinges; SL53, SL54 and SL77 half surface hinges; SL52 half mortise hinges; SL11, SL12, SL14, SL18, SL24, SL26, SL27, SL31, SL38, SL44, SL48 and SL84 concealed hinges; and SL71 safety concealed hinges; and SL41 swing clear hinges.
Polymer TIPITs are available in Gray (G) for clear anodized hinges or Black (B) for dark bronze anodized hinges.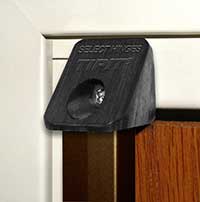 Black polymer TIPIT® CB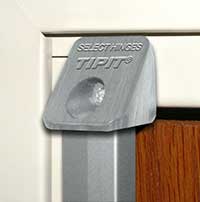 Gray polymer TIPIT® CG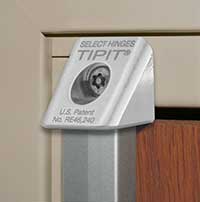 Metal TIPIT® CM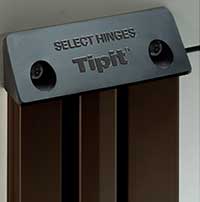 Black polymer TIPIT® LB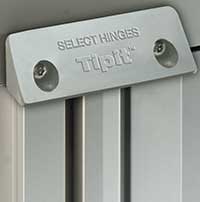 Gray polymer TIPIT® LG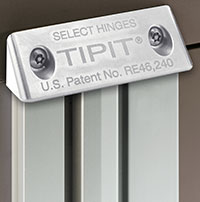 Metal TIPIT® LM
DISCLAIMER:  The TIPIT® product is designed only as a "deterrent" to hanging objects from the top hinge surface. SELECT Products Limited assumes no liability due to improper installation or injury resulting from tampering with the applied products.  Sharp edges may be present at the bottom portion of the applied hinge. It is recommended that these sharp edges (if present) be filed to rounded edges or that a heavy bead of construction adhesive, epoxy putty or the like be used to fill around said edges.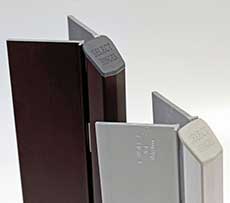 The SELECT angle-cut hospital tip prep provides slanted tips and durable polymer end caps.
Angle-cut hinge preparation for concealed hinges
For new construction
Available on: SL11, SL12, SL14, SL18, SL24, SL26, SL27, SL31, SL38, SL44, SL48 and SL84.
Preparation with Gray end cap for clear anodized hinges or Black end cap for dark bronze anodized hinges.
Contact your SELECT HINGES sales rep for a ligature-resistant solution today.
Or, contact SELECT HINGES directly.