Make jobs go smoother with SELECT's new BILTⓇ app, multi-language installation instructions and installer-inspired tools.
There is one thing you should know when you are installing a SELECT geared continuous hinge on your new construction or existing door — once you mount the hinge, it won't need any attention for decades. You will likely retire long before anyone considers replacing it! Because you are installing such a long-lasting product, SELECT makes sure your job goes quickly and easily.
SELECT has spent years listening to installers across the country to learn ways to minimize confusion and frustration. Whether it's your first time or hundredth time mounting a SELECT geared continuous hinge on a door, the process is designed to go smoothly.
Here are the latest ways SELECT Hinges ensures every installation gives you more time to work on other projects:
New BILTⓇ App videos use animated 3D drawings to walk you through installations.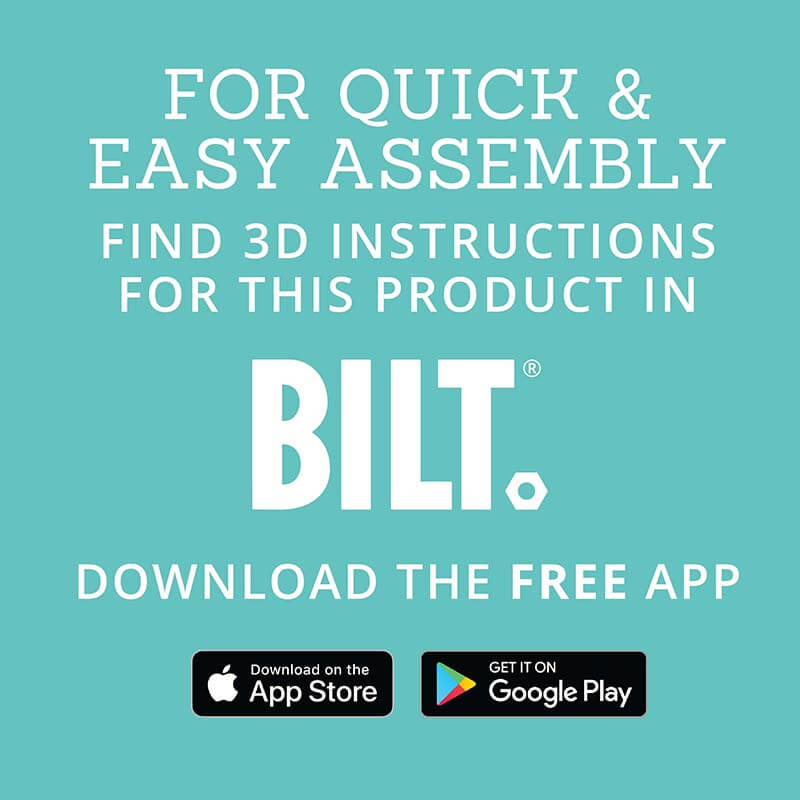 Many of us are visual learners, so SELECT Hinges offers a growing library of 3D animated installation instructions. Download the BILT app on your tablet or smartphone, and you can carry the installation instructions onto the job site. This free app is available from Google Play or the Apple Store.
Currently, the SELECT Hinges BILT installation instructions library includes:
Check the installation page for new BILT 3D installation videos throughout the year.
Each BILT animated video has features that make installation easier. Choose between visual and audio or visual only instructions. The beginning of the instructions indicates how many installers are needed and the estimated time it will take to finish the work. Check the parts list and what tools you will use before you start so you can work more efficiently. There are also instructions on how to calculate required door clearances and important warranty information.
Before installing your SELECT hinge, take a few minutes to practice using the interactive features: rotate the door or part 360-degrees, tap the screen for more information or pinch the touchscreen to zoom in and out. Using these tools will help make each step easier to understand.
Then, walk through the instructions at your pace. You can stop or return to previous steps at any point. If you have questions, you can contact SELECT Hinges' customer service directly from the instructions. It's that easy!
Downloadable instructions come in multiple languages.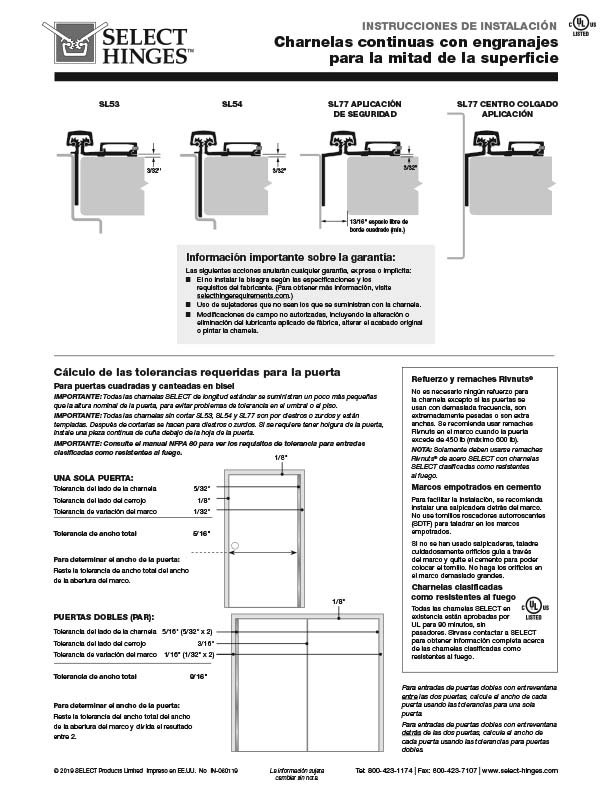 You can download instructions for every SELECT Hinges product on their website. All are written in English, but many of the most commonly installed hinges have Spanish or French translations, too.
Each sheet includes instructions on:
How to calculate required door clearances
Important warranty information
What parts and tools you will use
How to accurately cut the hinge to fit
Written step-by-step instructions and 2D drawings
You also can find additional installation tips from one of SELECT's most experienced installers in his blog.
Equip your toolbox with these fast installation solutions — installers inspired their designs.
Whether you are renovating high-traffic entryways or putting in new frames and doors, these problem-solving accessories make geared continuous hinge installations go quicker with fewer mistakes. Each is priced right so you can add several to your toolbox to be handy when you need them.
SELECT Aluminum or UHMW Shim Stock keeps doors square for years.

Once the hinge is in place, you will need to use a shim to keep it at the correct height. This shim stock will eliminate using paint sticks or quarters. When installing concealed hinges, use SELECT's clear anodized aluminum or translucent UHMW shim stock to reduce the clearance between the door and the frame. Or, when mounting full and half surface hinges, use this shim stock to provide additional inset for the frame. Both the aluminum and UHMW shim stock will eliminate problems with doors sticking or binding for years.
SELECT shim stock is super-easy to install, too. Remove the self-adhesive backing and stick it in place.
HB375 Drill Bit shaves up to 10 minutes off your installations.

This self-centering, through-bolt, carbon-steel drill bit bores quickly through hollow metal, aluminum, wood and FRP 1-¾" doors. It eliminates the need for a center punch and effortlessly forms the .375" holes required to install SL57 full surface (full mortise) geared continuous hinges. End flutes keep this bit from "walking" from side to side. You get smooth, clean-cut bores every time. Experienced installers add that you will use this bit a lot, so keep it sharp!
Pivot Hole Covers improve door appearance instantly.
These covers are the easiest way to leave a professional impression. You can:

Cover any holes left by removed pivot hinges or previous door preps.
Block bees, wasps and other insects from nesting inside doors or frames. The hole covers help keep out water and grime too.
Match frames with the clear or dark bronze color options.
Apply them quickly. Remove the self-adhesive backing, and press the cover in place.
SELECT Hinges customer service reps are ready to solve your installation problems.
When you are working in the field, installation questions can arise. You want to talk with someone who can answer them, not a recording. SELECT Hinges customer service representatives are ready to help. They work at the factory in Kalamazoo, Michigan, alongside the engineers and manufacturing team that design and make the hinges. Please call SELECT's problem solvers at 800-585-1019.